 Access your email anywhere
Powerfully Simple Email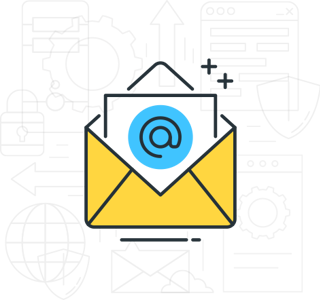 If you're looking for secure and ad-free email that won't let you down, we've got you covered. Our basic email works with all mail clients.
Our basic email includes webmail, so you can view your messages anywhere, at any time. It also supports both IMAP and POP3, so you can access your email on your devices.
We understand how important email is to business, so all our email is hosted away from our web hosting on rock-solid servers in our Midlands datacenters. All email is encrypted in transit using TLS for security and privacy.
Buy Now!
All emails and forwarders sent and received are subject to advanced antivirus and anti-spam protection.
Fully configurable email filters
You can set these filtering rules by domain, or by individual account – so you have full control.
You should have an email address that matches the domain of your website. It helps to make you appear established and credible.
We monitor outgoing emails to ensure this doesn't happen and operate a zero-tolerance spam policy.
Being certain that an email will arrive at its destination is essential, especially in business. So we work hard to keep our excellent reputation with email service providers - like Microsoft, Google, AOL and BT.
Each mailbox has 10 GB of storage. That's more than enough for most use cases. For example, it would be enough for more than 133,000 average-sized (75 kb) emails!
Yes. If you don't want to use any of the 'big players' in email web clients, you can use our 'Stackmail' email. It has all the same functions as the best email clients. It works perfectly on desktop, mobile and tablet. It even has a bunch of modern themes to personalise it your way!
We have a simple, all-in-one email migration tool that will work with Apple, Microsoft and Android devices.
Through 'autodiscover' technology, setting up Outlook is automatic.
This is an automatic process where you download an iOS profile to your device and follow the simple instructions.
Our email has a great spam-free reputation and we want to keep it that way.
It is not intended for mass commercial emails to hundreds of thousands of recipients.